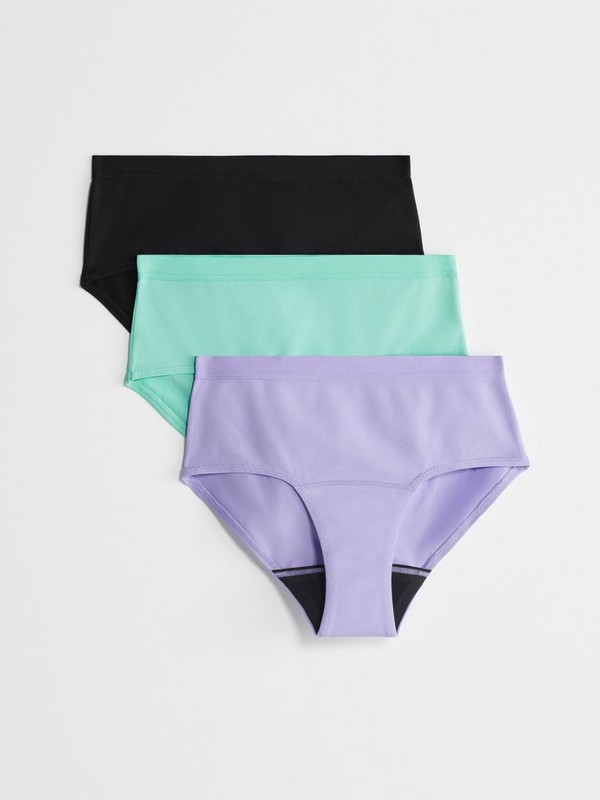 Engineered Teens Period Proof X 3 - Period Panty Mid-High Absorbency
Material:
Organic Pima Cotton Blend
45-day free trial offer on all period-proof underwear.
Tested and proven high-performance period panties, made to keep your periods safe. Our Engineered Teen Hiphugger x3 is a triple-pack of perfectly versatile period panties, great for everyday use. They come in a smooth and stretchy organic cotton blend made with premium long-staple Pima cotton fibres. The style has an absorbency level of "mid-high" – meaning that the built-in protection in each pair's gusset can absorb up to 3 pads' worth. What's more, this multi-pack comes with a Recycled On-the-go pouch that you can use to pack up your worn or wet garments when you're out and about. Wear them for up to 10 hours: then rinse them, wash them, and wear them again and again.
Composition:
79% COTTON 21% ELASTANE
Organic cotton blend
Absorbency level: Mid-High. Absorbs up to 3 pads' worth
Regular Waist
3-pack
Breathable, odour- and leak-proof absorbent gusset
Made of organic cotton blend with premium long-staple Pima cotton fibres
Made to replace traditional period protection
Engineered Leak Tech™
STANDARD 100 by OEKO-TEX® HK020 204177
Supplier: Bodyline (Private) Limited. Factory: Bodyline (Pvt) Ltd Plant 2. Address: Pimbura, Agalawattha, Mathugarna, Sri Lanka.
Washing instructions: Machine wash 40°
Care Instructions: Use for up to 10 hours. After use, rinse in cold water, then wash at 40 degrees with similar colours. Do not use fabric softener. Hang dry and re-use. Treated with OEKO-TEX certified antimicrobial substance (silver copper zeolite) in order to limit the growth of bacteria and reduce odour.
Engineered Leak Tech™
This underwear is designed to keep you comfy and dry with built-in protection in the gusset. Wear it for up to ten hours then rinse, wash and wear again. And again. Just like your regular underwear. A win for everyone with a female body, and for Mother Nature.
Wear, wash and wear again
To make your period-proof underwear last for longer, wash it with care. Just follow these three simple steps.
2
Machine wash at max 40°C or hand wash with a mild detergent. Use a laundry bag to give your panties some extra love and care. But don't use softener.
3
Hang to dry, but skip the dryer.