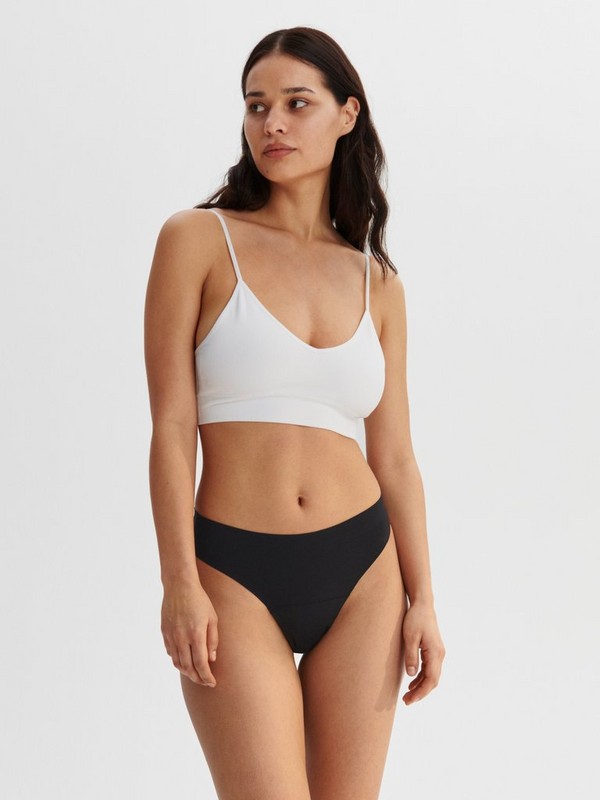 Engineered Thong Period Proof - Period Panty Mini Absorbency
45-day free trial offer on all period-proof underwear.
Tested and proven high-performance period panties, made to keep your periods and sneeze leaks safe. Our Engineered Thong is a perfect style for everyday wear, designed to fit snugly around your body and be invisible under your clothes. This style has an absorbency level of "mini" absorbency – meaning that the built-in protection in the gusset can absorb up to half a tampon / one panty liner's worth. Designed to feel snug at first, then relax with washing and repeated wear for a perfect fit. The "mini" is your ultimate everyday wear. To be used on your low flow days, your in between days or in combination with internal period protection. Wear it for up to 10 hours: then rinse it, wash it, and wear it again and again.
Composition:
83% POLYAMIDE 17% ELASTANE
Recycled Polyamide Blend
Absorbency level: Mini. Absorbs up to half a tampon/panty liner's worth
Carbon footprint: 2,27 kg CO2e/garment. (Calculated for biggest size and darkest colour)
Mid High waist
Invisible design with velvet-soft edges
Breathable, odour- and leak-proof absorbent gusset
Made with soft, recycled polyamide blend
Made to replace traditional period protection
Engineered Leak Tech™
STANDARD 100 by OEKO-TEX® HK020 200945
Supplier: Bodyline (Private) Limited. Factory: Bodyline (Pvt) Ltd Plant 2. Address: Pimbura, Agalawattha, Mathugarna, Sri Lanka.
Washing instructions: Machine wash 40°
Care Instructions: Use for up to 10 hours. After use, rinse in cold water, then wash at 40 degrees with similar colours. Do not use fabric softener. Hang dry and re-use. Treated with an OEKO-TEX certified antimicrobial substance (silver copper zeolite) in order to limit the growth of bacteria and reduce odour.
Engineered Leak Tech™
This underwear is designed to keep you comfy and dry with built-in protection in the gusset. Wear it for up to ten hours then rinse, wash and wear again. And again. Just like your regular underwear. A win for everyone with a female body, and for Mother Nature.
Wear, wash and wear again
To make your period-proof underwear last for longer, wash it with care. Just follow these three simple steps.
2
Machine wash at max 40°C or hand wash with a mild detergent. Use a laundry bag to give your panties some extra love and care. But don't use softener.
3
Hang to dry, but skip the dryer.