A period-proof story with Hildur Karlsson
Ski enthusiast, photographer, outdoor adventurer, and digital creator, Hildur is a woman on the move. Whether taking her dog for a walk in the city or heading out on her next great mountain trek, she demands that the clothes she wears work as hard as she does! When we asked her to join our journey as an ambassador, we capture her full attention with the promise of period-proof panties that would protect her for up to 10 hours. Freedom and more time to explore! We caught up with her between the Swiss Alps and her Stockholm apartment to see if the panties passed her life test. Join her adventures on IG @hildurkarlsson
What makes an awesome pair of underwear for you?
A great pair of underwear is a pair you neither feel nor see. They don't chafe, they don't irritate any parts of my body, and most importantly you can't see them through my pants or when I exercise. This may not sound like a big deal, but it actually takes a lot to pass that test, especially as all bodies are built differently and we all have our own preferences. For me, Female Engineering's Thong is just such a pair!
What was it like the first few times you wore the panties? Were you skeptical?
I was both skeptical and curious. I had to try them out a few times before I COMPLETELY trusted them. I'm a heavy bleeder. I've even used two tampons before on my heaviest flow days, and still leaked in my panties. This meant I wasn't the easiest person to convince when it came to period-proof panties. But this was also why I was super curious and happy to hear that someone had addressed a problem many women face. My first thought was: YES! How fun to try them out.
What do you prioritize in your purchasing decisions – especially with clothing?
High quality is essential. I want to own the things I buy for as long as possible, so that I can wear them with a clear conscience. I also want my clothes to fit well, feel good, and of course I want to feel beautiful in them!
When you have your period, can you go about your day – with all its physical tasks – without worrying you'll leak? Do you trust these panties to cover you completely?
This was my biggest challenge. I've been on the hunt for quite a while for something that would cover me in both my daily life and when I'm out on an adventure. I went on the birth control pill to reduce my period, a process that escalated into hormonal chaos and made me feel really shitty. I tried a hormonal IUD for a couple of years, which worked at first but then ended up messing with my hormones. I didn't feel good with the fact that I couldn't allow my period to just be, to just let my body be. Around two years ago, I had my IUD removed and decided to no longer take any hormones. This involved me accepting my period and the fact that I am a heavy bleeder.
Then, Female Engineering entered the scene. I am beyond happy to be able to wear nothing more than underwear during my period, and feel beautiful, protected, and just like myself.
"I don't think about the fact that I'm wearing period panties. They feel exactly like my regular underwear."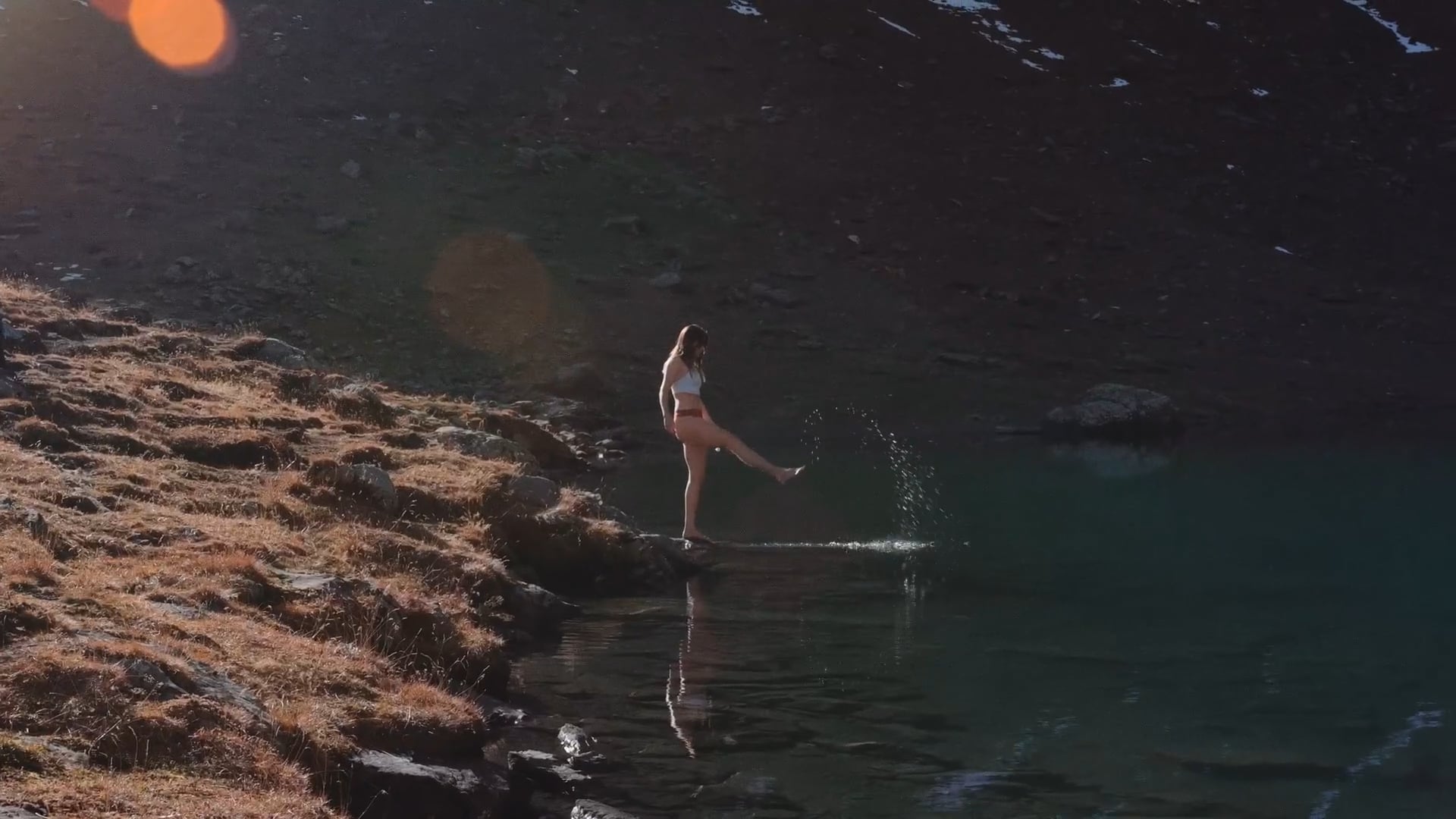 Do you forget you're wearing the panties during your period?
I don't think about the fact that I'm wearing period panties. They feel exactly like my regular underwear. I do like to stay on top of things, so I check in with the state of affairs when I go to the bathroom. But that has nothing to do with the underwear!
One of the very best things about the underwear is that it doesn't feel dirty at all. Just the opposite!
How long did it take you to adjust to them?
It took me about three periods to adjust because each of my periods is different, depending on where I am and what I'm doing. Each period, I've gotten a chance to try them in a different way. And each time, I love them that much more.
What period protection did you use before trying the period panties?
Usually tampons, sometimes pads. I nearly tried a menstrual cup but felt that I'm too active to keep it in check, so never did.
Do you use other protection along with the panties?
I haven't recently. At first, I would sometimes use a tampon as well, but I no longer feel like I need to, which is fantastic! It's important to find your own way by trying them out. I'm glad I did, which means that I now totally trust them, whatever I'm getting up to.
Why did you agree to become an ambassador?
It was an easy decision for me. Partly out of curiosity about how the underwear would feel to me. If it could remove some of the boring parts of getting my period: like relying on single-use products, like feeling dirty, like needing to keep track of when I last changed my tampon, like the fact that so many of my favorite pair of underwear have been ruined over the years.
My decision was also greatly impacted by the fact that I was so inspired by the women at Female Engineering. The chance to work with them, to represent something that improves women's lives, to contribute to change and encourage everyone to try them out. Passionate people inspire me – that's the ultimate feeling!
"I want to own the things I buy as long as possible, so that I can wear them with a clear conscience."
How do you work with the various absorption levels?
I love the thong! That's the model I wear the most. I wear the Hiphugger on heavy flow days, with mid-to-high absorption levels. A few times, I've worn the Thong for my entire period and only changed to a different model when I had to. Easy peasy!
When you were out on a long outdoorsy adventure before the FE period-proof panties, what was it like to have your period?
The funny thing is that each and every period comes like a big surprise. Oh, there it is again. Oh no, not again. Shit, such bad timing. Damn, I forgot to buy tampons. Oh well, there go those panties. What do I do now?
My period has always been a struggle, and just like I imagine everyone feels, there's no good time to get it. I love nothing more than spending long days hiking in the mountains, year round, and there's rarely access to a toilet. It's not that fun to carry around a bunch of tampons in your backpack.
Now, I can put on a pair of period-proof panties in the morning, choose the right pair depending on where I'm at in my cycle and the extent of my flow, pack an extra pair just in case, and put them in my bag. I don't have to worry, or carry around new and used tampons, or figure out how many tampons I'll need so that I don't leak. I don't have to use a bunch of single-use products.
"I totally trust them, whatever I'm getting up to."
Would you ever buy a friend a pair of these panties as a gift?
YESSS!!! I've recommended them to all my friends, encouraging them to try them out and find their own personal way of wearing them.
What did you know about period panties before trying these?
Nothing! I hardly knew they existed. I'd heard them mentioned once or twice in passing, but it wasn't until Female Engineering entered my life that I understood just how great they are.
What is your relationship to your period? Do you love it as part of your femininity? Or would you rather forget about it?
I could definitely say goodbye to my period. I'm not about to claim that it's something I enjoy now or ever will. I wish I did, that I could somehow see the beauty in it, but my period has always been something that comes and goes, and is more often than not a complete pain in the ass and super boring. Terrible, but that's how I feel. That's one of the reasons why I was so excited to try out period-proof underwear. To see if something could actually make it less of a pain, less boring, which they did!
Do you think the underwear could help heal women's relationships to their periods?
Absolutely. The underwear has helped me tons. My period has even become a little fun, in the sense that I've gotten to figure it out as I go along. It takes time to find a way that works by trying out the panties in various situations. Thank you, period-free underwear!
Hildurs favorites
Hildur wears the Thong with mini- to-light absorbency as often as she can. On heavy flow days, she wears the Hiphugger with mid-to-high absorbency.