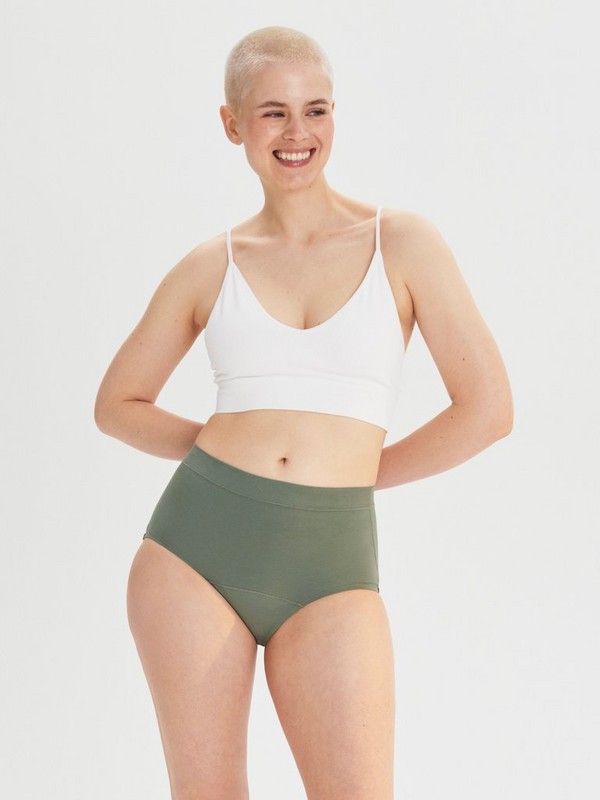 Engineered High Waist Period Proof – Period Panty High Absorbency
Material:
Organic Pima Cotton Blend
Tested and proven high-performance period panties, made to keep your periods and sneeze leaks safe. The Engineered High Waist is designed to hug your waist and comes in a smooth and stretchy organic cotton blend made with premium Pima cotton fibres. This style has an absorbency level of "high" – meaning that the built-in protection in the gusset can absorb up to 4 tampons/pads' worth. Wear it for up to 10 hours: then rinse it, wash it, and wear it again and again.
Composition:
79% COTTON 21% ELASTANE
Organic cotton blend
Absorbency level: High. Absorbs up to 4 tampons/pads' worth
High waist
Breathable, odour- and leak-proof absorbent gusset
Made of organic cotton blend  with premium long-staple Pima cotton fibres
Made to replace traditional period protection
Engineered Leak Tech™
STANDARD 100 by OEKO-TEX® HK020 204177
Supplier: Bodyline (Private) Limited. Factory: Bodyline (Pvt) Ltd Plant 2. Address: Pimbura, Agalawattha, Mathugarna, Sri Lanka.
Carbon footprint: 2,49 kg CO2e/garment. (Calculated for biggest size and darkest colour)
Washing instructions:
Machine wash 40°
After use, rinse in cold water
Wash with similar colours
Do not use fabric softener
The product is treated with antimicrobial substance (silver copper zeolite and silver zeolite) in order to reduce the growth of bacteria and reduce odour.
Engineered Leak Tech™
Our underwear is a science-based innovation designed to keep you dry and comfy during your menstruation. The secret is the Engineered Leak Tech™ - a patented technology consisting of three active layers, each featuring a specific function. The result? A life-changing, cutting-edge underwear made to simplify life for each and every person with a female body. 1. Wicking layer Draws away body fluids and dries quickly. 2. Absorbent & anti-odour Absorbs, capsules liquids, and blocks odour-causing bacteria. 3. Leak-resistant barrier Leak-resistant, carefully developed to leave you and your clothes stain-free.
Wear, wash and wear again
To make your period-proof underwear last longer, wash it with care. Just follow these three simple steps.
2
Machine wash at max 40°C or hand wash with a mild detergent. Use a laundry bag to give your panties some extra love and care. Don't use softener.
3
Hang to dry, skip the dryer.